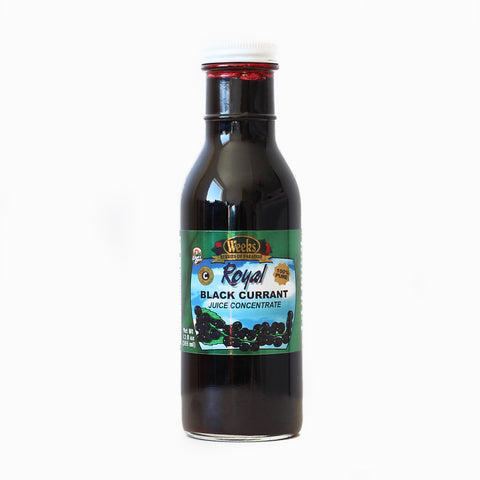 Black Currant Juice Concentrate
The Antioxidant Berry
All Natural, No Added flavors or sugars.
Mervin Weeks has always had a passion for berries. For over 40 years, he has raised and harvested raspberries, blackberries, strawberries, and other fruits in Paradise, Utah, nestled in Northern Utah mountain foothills. In 1994, he discovered a berry uncommon in the United States, but known throughout the world to be full of both flavor and natural health benefits: the Black Currant. In Europe, Black Currants have been used for centuries for their amazing health benefits. High in antioxidants and other important health compounds, black currants also make a bold, rich juice that Merv decided to share with his friends and neighbors. And so, in 1994, Royal mountain grown black currant juice was born. At Weeks Berries of Paradise we believe that mountain grown juice just tastes better, that's why we only use currants grown on our own farm where the mountain climate aids to enhance the currant berry flavor. We have enjoyed the great taste and health benefits of currants for years, and hope you will too!
The black currant berry provides one of the highest concentrations of antioxidants in nature, it has been prized for centuries in Europe and Asia for both it's natural health benefits and flavor. Naturally high in antioxidants, vitamin C, iron, Potassium, and other important vitamins, minerals and health components, black currants also have a bold, delicious, unique flavor. At Weeks Berries of Paradise we only use currants grown on our farm in Cache Valley, Utah, where the mountain climate enhances the currant berry compounds. Make Black Currant Juice a healthy part of your diet today.
Since we grow and process our own fruit, we can guarantee our quality, freshness, and flavor. We have complete control of the entire process from the planting stage to the final product, something that our competitors can't match.
Directions: Take 3 Tbsp. daily. For juice mix 3 Tbsp. with 6 oz. of water and sweeten to taste. One 12 oz. bottle makes 64 fl. oz. of juice. Refrigerate after opening, use or freeze within 4 weeks.
INGREDIENTS: Concentrated Black Currant Juice.
Weeks Berries of Paradise, Inc